Buy Yucca Rostrata wholesale, the best option for landscaping large slopes and slopes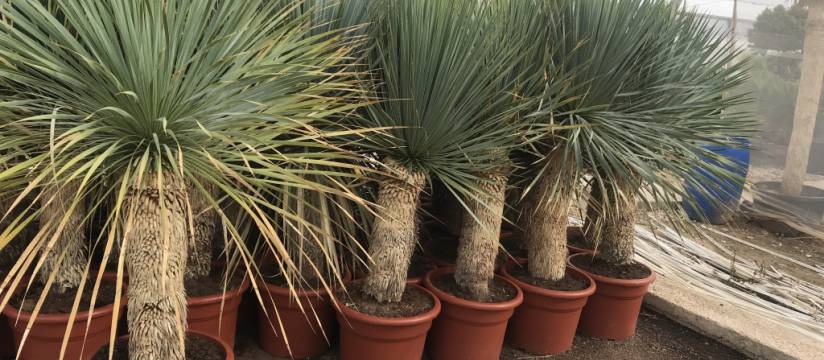 If you need to garden the seedlings of an environment to be urbanized for the construction of houses or the areas with steep slopes and unevenness so common in road construction, we recommend buying Yucca Rostrata wholesale.
Given the particular characteristics of the Yucca Rostrata, it becomes the ideal plant to beautify places that receive little maintenance.
It is enough to water it occasionally in summer, because it does not need pruning or fertilization and is very resistant to pests and diseases.
For these reasons, this plant native to the desert areas of the southern United States and northern Mexico is highly demanded in xeriscaping.
Its elegant and stylized bearing, since it reaches more than four meters in height, and its thin and bluish leaves, turn it into a slender plant perfect for landscaping very dry and sunny areas, in which the soils are usually poor and limestone .
These characteristics make it a favorite for landscaping stony areas or with steep slopes.
One of his few needs is to have the soil very drained, because the excess moisture damages him remarkably. Therefore, it is very common to find it on slopes, both in isolation and in groups.
Its white flowers of great beauty and the lack of thorns make these specimens an ideal solution for the landscaping of large public areas.
We are regular suppliers of professionals who want to buy Yucca Rostrata wholesale
Viveros Soler is dedicated, basically, to the sale of a great variety of plants and large specimens of trees in bulk. Our company is oriented to professionals, landscapers, promoters, town halls, nurseries, etc. If you want to buy Yucca Rostrata wholesale, we are the nurseries you need.
In addition, when selling wholesale, our prices are very competitive.
Do not hesitate to contact us. Tell us what your landscape project is and we will offer you a personalized and professional advice.
We offer our services internationally. Our commercial network spans the Spanish and French Mediterranean coast, but we also work in the interior of Spain or in other northern European countries such as the United Kingdom.
If you want to buy Yucca Rostrata wholesale, contact us
Viveros Soler offers a wide variety of sizes of Yuccas Rostrata, both imported and domestic. If you want to buy Yucca Rostrata wholesale in our facilities you will find a great offer.
Our plants have a high quality, they are cared for by professionals with great experience.
The Soler family has been dedicated to embellishing the streets and gardens of Spain and much of Europe for over thirty years.
In addition, in Viveros Soler we offer you a great variety of products. In our extensive catalog you will also find a great diversity of trees, such as citrus, fruit, olives, palms ...
We are specialists in the transport and placement of large specimens.
When you buy Yucca Rostrata wholesale, ask us about transportation. We transport to the destination the goods to root ball or rooted in container.
Fill out the contact form that appears on the web or send us an email to info@viverossoler.com with your query and, as soon as possible, we will answer you kindly.
If you wish, we will be happy to receive your call at 647 118 868.