Trust VIVEROS SOLER to buy Trachycarpus Fortunei palm trees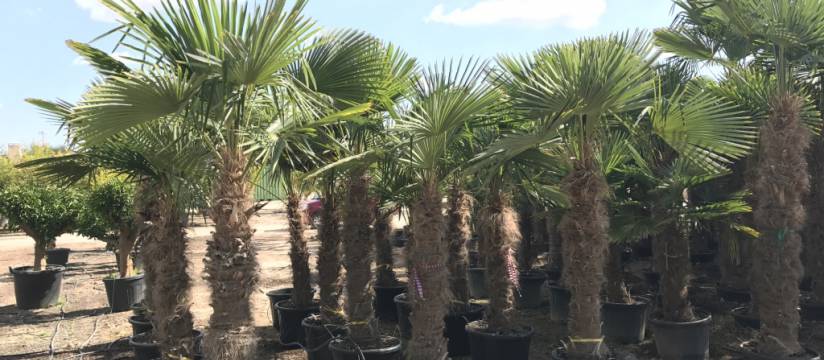 If you want to buy Trachycarpus Fortunei palm trees, we congratulate you on your good decision, since it is one of the most resistant and commercially successful palm trees. The Trachycarpus Fortunei palm or excelsa palm , is also popularly known with the following denominations:
Chinese fan palm
Raised palm
Giant palm
Windmill Palm
This beautiful palm is native to central and eastern China. It is characterized by its palmate leaves and its thin and hairy trunk whose diameter is less than 25 centimeters. This stylized trunk along with the important height that its specimens usually reach, around 12 meters, make this beautiful palm tree a specimen widely used in the ornamentation of city streets and avenues .
Its main feature is its great resistance to very cold climates and high temperatures . It perfectly supports prolonged frosts for several months and even snowfall, tolerating temperatures up to 12º below zero.
Both its exotic beauty and its resistance to extreme climates are the main reasons for its great commercial success. We are currently Trachycarpus Fortunei palm trees in all parts of the world: New Zealand, Scotland, USA. UU, ... and, of course, throughout Europe and especially in the Mediterranean countries.
The only weak point that we must keep in mind, if we want to landscape avenues or open spaces with the palm tree, is its low wind resistance. Therefore, it is not convenient to transplant in areas of significant wind gusts, habitual gales, ...
If you have chosen to buy Trachycarpus Fortunei palm trees you will be surprised by its easy adaptation to the weather
If you have chosen to buy Trachycarpus Fortunei palm trees to beautify an avenue or a garden in a locality, you will be surprised by its easy adaptation to the climate of its new location.
The weather is a very important factor in the adaptability of palm trees, since they are usually native to warm climates, but the extraordinary adaptability of the Trachycarpus Fortunei palm tree is surprising.
It is enough to protect them and offer extraordinary care during the first year, as they then become strong.
In VIVEROS SOLER we have an extensive offer of Trachycarpus Fortunei palm trees in different sizes. We serve them in a 10 or 15 liter container.
We take care of transporting in trailer truck and placing them in their final location with a feather truck our largest palm trees. We have copies up to 6 meters high.
In our facilities we have a wide variety of palm trees. We will be happy to inform you about the main characteristics of each variety and advise you the most suitable for your gardening project.
If you still need a stronger palm, we also offer you the Trachycarpus Wagnerianus variety, originally from Japan.
To buy Trachycarpus fortunei palm trees with full warranty, contact us
If you want to buy trachycarpus fortunei palm trees, trust the management of VIVEROS SOLER. Our plants travel with the phytosanitary passports required by the European Union . For two generations we have been specialists in transporting and planting our palm trees throughout Europe. Trust our services and you will be able to buy trachycarpus fortunei palm trees wholesale of excellent quality.
To contact us fill out the form that appears on the web, send us an email to info@viverossoler.com or call us at 647 118 868.