VIVEROS SOLER offers you a wide catalog in the sale of olive trees Spain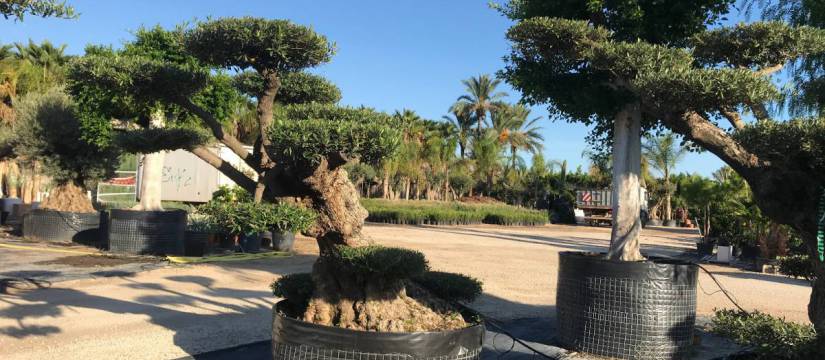 If you are looking for companies that are dedicated to the sale of olive trees Spain and that are responsible for their transport and placement in their final place, VIVEROS SOLER will meet all your expectations. We offer you a wide variety of ornamental olive trees among which we highlight:
Centennial Olives: Pompom, Pata, Regional, Lechín
Bonsai olive trees
Millenary Olives
Multi-trunk olive trees
Olive trees lying down ...
If you want wholesale olive trees to landscape large areas, carry out a landscape project or beautify an urbanization, contact us and you will be totally satisfied with our service. At VIVEROS SOLER we have been meeting the demand for ornamental olive trees in Europe for two generations. We work in France, United Kingdom, Italy and, of course, throughout the Iberian Peninsula.
We are specialists in the transfer of our olive trees to their destination. We carry out a complete and fully guaranteed transport. To do this, we use a special truck for large specimens and a boom truck for placement in its final location. Our olive trees, which always travel with your phytosanitary passport required by the European Union , we serve them in two ways:
to root ball, that is, direct from the field
rooted in a container, depending on its size
In our facilities we have a large stock of olive trees of different sizes, formats and varieties that will allow you to landscape large areas with high quality plants and at a very competitive market price.
In addition, if you wish we will be happy to offer you personalized and professional advice on the types of olive trees most suitable for the place where you want to plant them.
Contact VIVIEROS SOLER and you will find the sale of olive trees Spain that you need to carry out your landscape project
At VIVEROS SOLER we are pioneers in the supply of centuries-old olive trees, carob trees, palm trees and citrus fruits to different European countries such as France, Italy, the United Kingdom and Spain. We have a long experience in the sale of olive trees in Spain. We offer you young olive trees, centenarians and millenaries to make your project a reality.
The olive tree is characterized by being resistant to all types of weather. Its maintenance is easy and economical . It just needs a little water and a lot of sun. Resists drought times very well. Its evergreen makes it a beautiful tree at any time of the year. In addition, it provides cool shadows in summer. The olive tree is the ideal tree for landscaping large spaces.
On the other hand, the native gardens are in fashion, with a tendency to return to the plants of the originals of the place. The olive tree, which is native to the Mediterranean basin, adapts perfectly to the gardens of countries such as France, Italy or Spain.
If you need a company dedicated to the sale of olive trees in Spain wholesale, visit VIVEROS SOLER
Visit us on our website and you will check the extensive catalog that we offer for sale olive trees Spain. Do not hesitate to contact us if you wish to expand your information. We will be happy to advise you professionally to make your landscape project a success. You will be pleasantly satisfied when you see that we speak French fluently.
Fill out the contact form that appears on the web making the query you need and, quickly, we will contact you. You can also send us an email to info@viverossoler.com or call us at 647 118 868.