Supply your nursery with VIVEROS SOLER's online wholesale plants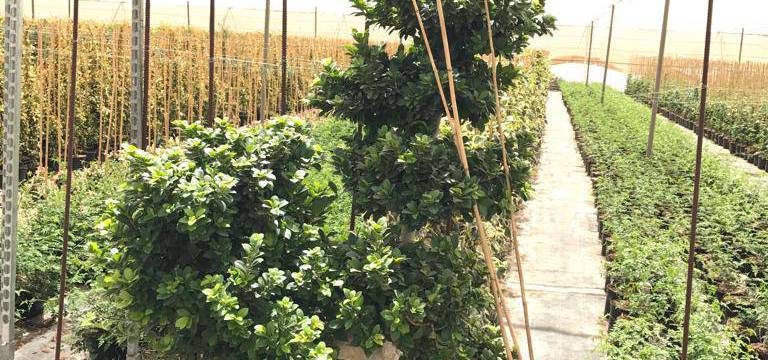 The best way to have your nursery or your Garden Center supplied with a variety of quality products is by visiting the VIVEROS SOLER website. You will be surprised by the great variety of sizes and formats that we offer you and you will love to comfortably buy our plants wholesale online. In our company we have extensive experience both in the gardening sector and in the transfer of our plants to their destination. In the SOLER family we have been satisfying the demand for plants anywhere in Europe for two generations, mainly in France, the United Kingdom, Italy and, of course, in Spain.
To do this, we use the most appropriate transport depending on the type of ornamental plants that travel. We send the palletized goods in carrys or using a trailer truck for movement and a boom truck for placement at their location, in the case of large specimens. VIVEROS SOLER offers you a complete transport, guaranteed and at very affordable prices . It is very important to highlight that our plants always travel with the phytosanitary passports required by the European Union .
VIVEROS SOLER is a dynamic and current company. We are at the forefront of the sector and we make our clients' task as easy as possible using the latest technologies. By selling plants wholesale online we can reach our clients from other countries avoiding uncomfortable trips to our physical facilities. In addition, our commercials are fluent in French and English , allowing them to conveniently work with our clients from other countries.
Our long professional career, since we have been working in the sector for more than thirty years , is the best guarantee that our product is of high quality and that we also offer it at a very competitive market price.
Visit our website and be amazed by our great variety of plants wholesale online
If you want to buy plants wholesale online, at VIVEROS SOLER we have a large stock of sizes, formats and varieties . In our wide catalog you will find varieties from all over the world.
In addition to ornamental plants, we are specialized in the sale and distribution throughout Europe of trees, mainly:
Palms
Century-old olive trees
On our website you will find all kinds of woodlands, citrus, fruit trees, yuccas and dracenas, conifers, bonsai, cacti and succulents, etc.
Do you need professional advice about our online wholesale plants?
Another of the services we offer you at VIVEROS SOLER is our specialized and personalized professional advice . If you want to buy plants wholesale online, do not hesitate to contact us for all those questions that may arise related to our plants, their care or transportation.
Our specialists will be happy to inform you about our online wholesale plants and their adaptation to different environments depending on their climate: hours of sunlight, gusty winds, low temperatures, snow and frost, etc.
To contact us, you only have to fill out the form that appears on the web and, as soon as possible, we will contact you giving you answers to your queries. If you prefer, send an email to info@viverossoler.com
Telephone: 647 118 868