6 reasons to buy plants in bulk at VIVEROS SOLER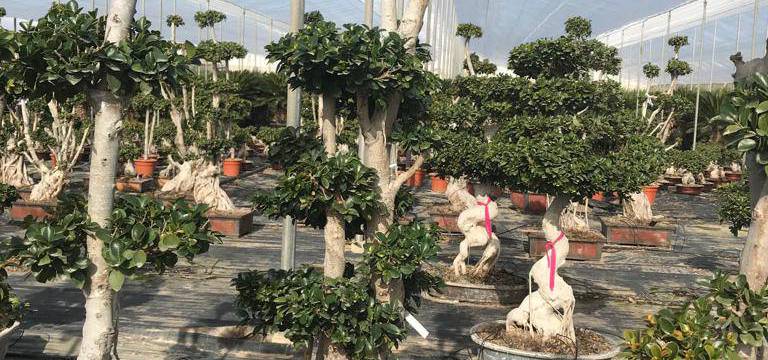 With VIVEROS SOLER the purchase of plants in bulk will be very satisfactory for you. We have a highly specialized professional team that will advise you on the most suitable plants for your gardening project. We have an extensive catalogue with a wide variety of sizes, formats and varieties. In addition, we have a large stock of each variety so that you have all the specimens you need. Remember that we do not sell individual units to individuals, we only sell large quantities to professionals.
Our plants are of excellent quality, healthy and more durable. This is because they are cared for by qualified personnel who give them the personalised attention they need:
quantity and frequency of watering
daily hours of sun and shade
type of substrates and fertilizers
pruning
pest and disease care
etc.
We take care of the transport to its destination in palletized goods and carrys so that you receive our plants in optimal conditions. You will be surprised by the excellent price and its magnificent relation with the quality of our products.
Our extensive sales network extends throughout Spain and Europe. Our expert sales agents are fluent in English and French, as well as Spanish, so they will give you the best advice on our plants for transplanting in your country. Furthermore, our ornamental plants always travel with the phytosanitary passports required by the European Union, which guarantee their quality and healthy condition.
VIVEROS SOLER provides you with a satisfactory purchase of plants in bulk
Buying plants in bulk will be very convenient and satisfactory at VIVEROS SOLER. We invite you to visit our web site to see the wide range of products we offer. To make your search easier we have organized our plants by categories. Of each product we offer you:
its scientific name and its colloquial name
its origin
a photo gallery to help you recognize the plant
a brief description of its main characteristics
In addition to a wide range of trees, citrus, fruit, conifers, olive and palm trees, in VIVIEROS SOLER you will also find an interesting selection of exotic plants, Mediterranean plants, climbing plants, yuccas and dracenas, ornamental shrubs, bonsai, cactus and succulents, ...
Don't hesitate to contact us. We will be happy to offer you our professional advice according to the ornamental plants you choose and the place where they are placed. You will get the best decoration with ornamental plants in your urbanization, your garden, your avenue, etc.
Entrust VIVEROS SOLER with the purchase of plants in bulk
At VIVEROS SOLER we attend to the purchase of plants in bulk for professionals in gardening, nurseries, garden centres, landscapers, urbanisation projects in municipalities, official organisations, etc.
Since 1988, our family has been dedicated to satisfying the demand for centenary palms and olive trees in Europe. Later, in 2.013, we began a new venture, expanding our business and offering our clients the purchase of plants in bulk
Contacting us is very simple. All you have to do is fill in the contact form and we will contact you as soon as possible. We have a great customer service. You can also call us at 647 118 868 or write an email to info@viverossoler.com