The prestige of our wholesale nurseries extends throughout Europe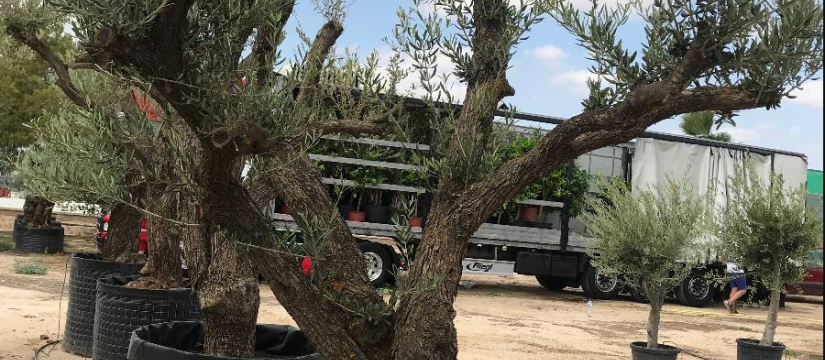 At VIVEROS SOLER we offer you a great variety of plants of excellent quality, in different sizes and formats. Our prestige as a wholesale nursery extends throughout Europe, as our customers are spread throughout France, the United Kingdom, Italy, ... They trust the quality of our plants because they always travel with the phytosanitary passports required by the European Union.
In addition, we have an extensive commercial network that extends along the entire Spanish Mediterranean coast. We send our products to the Costa del Sol, the Costa Blanca, the Costa Brava, the Balearic Islands, ... and we also work in inland locations, especially Madrid and other large cities. Our prestige is guaranteed by the quality of our plants and the professionalism of our team.
At VIVEROS SOLER we work only for professionals. We collaborate with landscape designers in the creation of projects for avenues, streets, roundabouts, public parks, private residential gardens, etc. Our business is oriented to:
Supplying plants to nurseries and garden centers dedicated to retail
Official bodies, town halls, public administrations
Developers and builders
For two generations, in our wholesale nurseries we have specialized in the sale of century-old palm and olive trees
We are the wholesale nurseries that specialize in the sale of large specimens of palms and olive trees. You will be surprised by our wide selection of palm trees. We have varieties of palms from all over the world: Japan, Chile, China, Mexico, Canary Islands, Madagascar, Argentina, ... Our staff will advise you, conveniently and in a personalized way, about the characteristics of each category and which are more suitable for the place you want to garden. It is very important to take into account the climatic factors of the place where you are going to plant: temperature, rain, wind, frost, snow, etc.
If you visit our website you will be impressed by the wide range of hundred-year-old olive trees that we offer: Bonsai, Regional, Pata, Lechín. We have a large stock of olive trees to satisfy immediately the demand of our customers. We serve them rooted in containers or root ball, that is, directly from the field. The olive tree is a very beautiful evergreen tree that offers very fresh shades so they are in great demand in hot areas. It is characterized by its great resistance to all climates and needs very little care. It resists very well the dry seasons so they are fashionable in public gardens. Its main demands are two: a lot of sun and a wide space to grow.

We are the wholesale nursery you need
If you are looking for a wholesale nursery to supply your business, at VIVEROS SOLER you will find all the characteristics you demand from your supplier: seriousness, commitment, product quality and price. We offer you a wide catalogue of plants of the best quality and at a very competitive market price.
To contact us, all you have to do is fill in the form on the website. If you prefer, send us an email to info@viverossoler.com or call 647 118 868.