VIVEROS SOLER, two generations dedicated to the wholesale of ornamental olive trees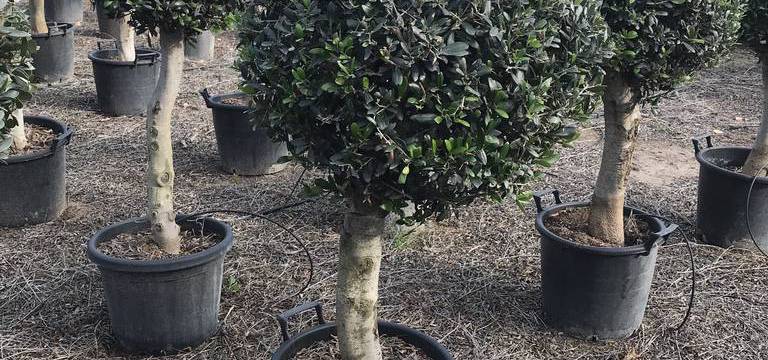 The olive tree is an evergreen tree that produces lush shade and is easily adapted to its location, making it ideal for decorating parks and gardens. At VIVEROS SOLER we have been dedicated to the wholesale of ornamental olive trees for two generations. Although the olive tree is cultivated in large areas throughout the Mediterranean basin to elaborate the appreciated olive oil with its fruit, its fabulous characteristics have been the reason why, in recent years, the olive tree has also been used as a decorative tree in cities and avenues across Europe. Among its main peculiarities we highlight:
Very resistant to all climates
Low maintenance: it needs little water and a lot of sun
It needs a lot of space and resists drought well
Xeriscape has made it fashionable
Its care is very cheap since it does not need abundant irrigation, so xeriscape, a tendency to use indigenous plants and low water consumption, has made it fashionable in our cities. It is very common to find it in rest areas and gardens offering walkers wide and fresh shades, which are very cool in the summer months.
At VIVEROS SOLER we offer you the wholesale of ornamental olive trees of different varieties and formats
In the wholesale of ornamental olive trees, VIVEROS SOLER has a large catalog of different varieties. The ornamental olive tree is characterized by the type of decorative pruning that is performed. It is very aesthetic and beautifying to place it in rest areas, exercise spaces, parks ... offering a beautiful design to the place, since its presence gives the garden a dazzling space. In addition, it is very easy to maintain the pruning of your crown, since it is enough to remove the new stems that appear.
The ball, pyramidal or rounded olive trees receive this name for the shape given to the top of the tree when pruning it. It is very common to find them in parks across Europe. The lying or lying olive tree is used in rockeries, although it is also highly demanded by landscapers in their exclusive avant-garde design projects.
The recovery of ancient olive trees or even ancient olive trees from cultivated fields offers these imposing specimens a second chance. When they are no longer useful in agriculture because they do not produce fruit, they are offered an ornamental function of great aesthetic value in city gardens.
If you are interested in the wholesale of ornamental olive trees, contact us
At VIVEROS SOLER we have an extensive range of olive trees of different sizes, pruning types, varieties and formats. We are the supplier you need for the wholesale of ornamental olive trees. Get in touch with us and ask us for the information you need. Our specialized staff will advise you professionally to give you the best solution for your project.
We invite you to follow us on Facebook and you will see our great activity in the gardening sector. If you are interested in the wholesale of ornamental olive trees, VIVIEROS SOLER is the professional you need.
Call 647 118 868 and we will attend you kindly. We have a wide portfolio of clients throughout Europe, so if you write to us at info@viverossoler.com we will reply in Spanish, French or English. You also have the option to fill out the contact form that you will find on our website. We will reply to you as soon as possible.