What advantages does buying Washigtonia robusta wholesale offer you at VIVEROS SOLER?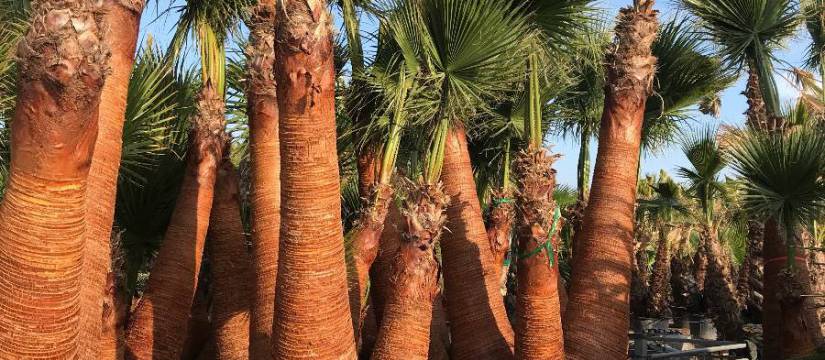 One of the most common palm trees in our streets is the Whashigtonia robusta, popularly known as the fan palm, due to its magnificent adaptation to different types of soil and climates. If you want to buy Robusta Washigtonia wholesale, in VIVEROS SOLER you will find the specialists you need to acquire a quality product.
The Washigtonia robusta palm is characterized by its fan-shaped leaves that, together with its slender trunk, make it one of the most beautiful specimens in this category. It is native to Mexico, which is why it is also known as the Mexican palm tree. Among its main characteristics we highlight:
her majestic beauty
its easy adaptation to different types of soils and climates
its rapid growth
admits to be cultivated and transplanted
These characteristics are the reason why it is one of the most used palm trees for the beautification of avenues and roads in cities . Except for its first years, in which it needs more care such as periods of shade, more irrigation and fertilization, this palm tree perfectly accepts:
The high temperatures
it resists frosts down to -5ºC
direct sun exposure
the humid environments of coastal cities
All this, together with its rapid growth , have made it one of the most demanded by official bodies and public administrations for the landscaping of public spaces.
If you want to buy Robusta Washigtonia wholesale, at VIVEROS SOLER we are specialized in all its formats
At VIVEROS SOLER we have been satisfying the demand for palm trees throughout Europe for two generations. Our long experience in the sector makes us the best supplier. Therefore, if you want to buy Washigtonia robusta wholesale, you will see that we offer you high quality specimens at a very competitive price.
In our facilities we have washigtonia palms both rooted and rooted in container . Their complete adaptation to transplantation makes them a highly demanded palm tree for landscaping urbanizations and private residential areas. In VIVEROS SOLER we are at the forefront in fashions and novelties in gardening.Therefore, in addition to the robust washigtonia palms ideal for their location aligned in the streets, we also have palm trees in group formation with two, three, four and five palms that they form beautiful ornamental groups in your gardens. You will also love our lying palm trees , ideal to place near swimming pools or our palm trees up to 18 meters of trunk brushed with a cutter.
To buy Robusta Washigtonia wholesale, contact VIVEROS SOLER
Contact us if you are interested in buying Washigtonia robusta wholesale and you will see our great professionalism and experience . We transport the palm trees with full guarantee to any point in Europe in a special truck and we use a boom truck to place them at their final destination.
At VIVEROS SOLER we speak fluent English and French to facilitate our European customers the transaction and information they want. To contact us, fill out the form that you will find on our website or call: 647 118 868. You can also send us an email to info@viverossoler.com