Designing an exotic, fast-growing garden is easy when you buy the fake pepper tree in bulk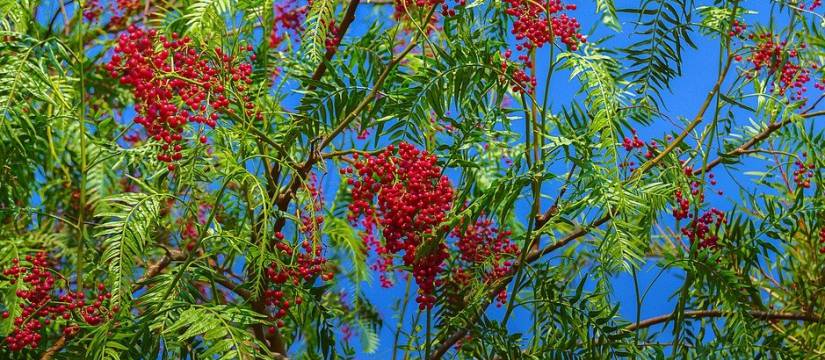 Although there is no written record, it is believed that the false pepper tree was brought to Europe by the Spaniards, motivated by the exotic beauty and brightly coloured leaves of this leafy weeping tree. If you want to quickly landscape a large area, we recommend buying the wholesale false pepper tree, which is characterised by its rapid growth and fern-like leaves. It is native to southern Brazil, Uruguay, Bolivia, Peru and Argentina. Nowadays, this woody evergreen tree can be found all over the world and in Europe it is common to find it in parks, avenues and gardens. It is a very long-lived and resistant ornamental tree that adapts perfectly to the Mediterranean climate. It needs a lot of sun and withstands long periods of drought and high temperatures. On the other hand, it does not withstand frost.
Medium-sized, its height ranges between 6 and 8 metres. It has beautiful hanging branches that bear its striking fruit in the summer months: beautiful, small, bright red balls that are very shiny and clustered.
Its rapid growth and easy adaptation to most habitats has become a problem when it grows out of control, as it is considered an invasive species. It is common to see it growing on roadsides, abandoned farms, irrigation canals, etc.
In VIVEROS SOLER you will find the best quality wholesale false pepper tree
For two generations the Soler family has been selling a large number of ornamental plants and trees. If you need wholesale specimens of the false pepper tree to carry out your landscaping project, contact us and you will see the excellent quality of our plants.
Although we specialise in large specimens of olive, carob and palm trees, we also have a wide catalogue of plants. The false pepper tree is one of the species included in our category of trees with the highest demand. In addition, in VIVEROS SOLER you have a professional team that will give you professional and personalised advice on:
the care of our plants (watering, fertilising, pruning, amount of sun, ...)
The most suitable plants for the place where you want to place them.
Any questions you may have about our products

If you wish to buy the false pepper tree wholesale, please contact us
In VIVEROS SOLER we have a long experience in the cultivation and sale of the false pepper tree wholesale. In our facilities we have a wide variety of specimens of all sizes and rooted in containers. They are ready to be transported to their final location. We also offer you a transport service, at a very affordable price. For our large specimens we use a trailer truck and we use a boom truck to place the trees in their location. A complete transport service with total guarantee and at the best price.
Our extensive sales network is distributed throughout the Mediterranean coast covering Spain, France, Italy, although we also work with other European countries such as the United Kingdom. Our plants always travel with the phytosanitary passport.
Are you interested in contacting us? Fill in the form on our website or write an email to info@viverossoler.com
Telephone: 677 957 012.