Trust in VIVEROS SOLER, Europe's largest wholesale palm tree supplier.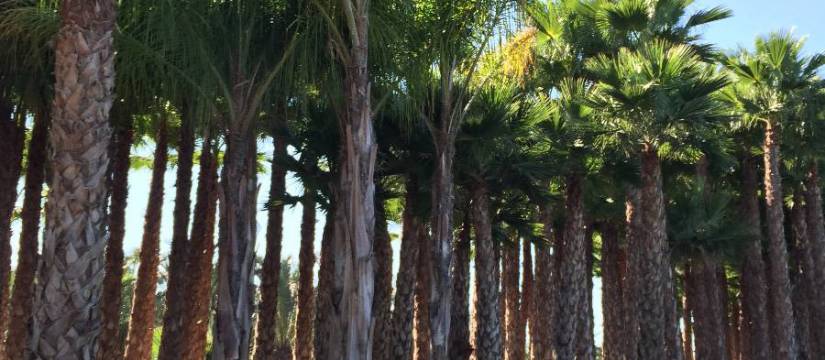 Are you looking for a reliable wholesale palm tree supplier? VIVEROS SOLER offers you a long experience as a wholesale supplier, as we have been satisfying the demand for palm trees and centenary olive trees all over Europe for two generations. We are pioneers in the supply of trees throughout Europe and Spain, mainly in large cities and throughout the Mediterranean basin (Costa del Sol, Costa Blanca, Costa Brava, Balearic Islands ...), as well as in other European countries such as France, Italy, United Kingdom ... always guaranteeing a complete transport and at the best price.
The palm tree is one of the most common plants in our cities due, among other characteristics, to its longevity and the lack of care they need, as they are hardy and resistant. They can be found on their own or lined up in long avenues, roadside medians, roundabouts, promenades, gardens, etc. Its elegant and slender shape makes it the ideal tree to beautify our towns and villages.
We currently have a large number of different sizes and formats of palm trees in our nurseries so that you can choose according to the characteristics of your landscaping project. Our highly qualified staff will be delighted to give you personalised advice on the most suitable species depending on their final location:
Type of soil
Hours of sunshine per day
Temperature
Wind zones
Etc.

VIVEROS SOLER, the wholesale palm tree supplier that guarantees you a high quality plant
You will be surprised by our wide range of palm trees from all over the world: Japan, Chile, Asia, Canary Islands, China, Mexico, Brazil, Madagascar, Argentina ... which makes us the best wholesale palm tree supplier.
Climate is one of the main factors to take into account when choosing palm trees to embellish a garden area. Although palms are generally native to warm climates, many types are adapted to low temperatures and are wind resistant and able to withstand even heavy frosts. Among the most cold-resistant palms, we highlight the most commercially available:
Syagrus Romanzoffiana, popularly known as false coconut palm.
Chamaerops Humilis, palmetto or margallon
Butia Yatai, also known as the jelly palm tree
Trachycarpus Fortunei or Windmill Palm
At VIVEROS SOLER we transport the palms by root ball or rooted in a container. We use a trailer lorry for large specimens and we use a boom lorry to place and transplant them. You will find that we offer very competitive prices.
We are the wholesale palm tree supplier that offers you the personalised and professional advice you need to choose the most suitable plant for your landscaping project
VIVEROS SOLER is the wholesale palm tree supplier that makes the difference. Our staff will professionally advise you on the palm trees that have the most suitable characteristics for your landscaping space. We speak fluent Spanish, English and French to provide our customers with the best service. In addition, all our plants travel abroad with their corresponding phytosanitary passport required by the European Union.
Do you want to contact us? Choose the most convenient way for you:
Fill in the contact form
Telephone: 677 957 012
Email: info@viverossoler.com