With our wholesale lying olive trees your garden will look special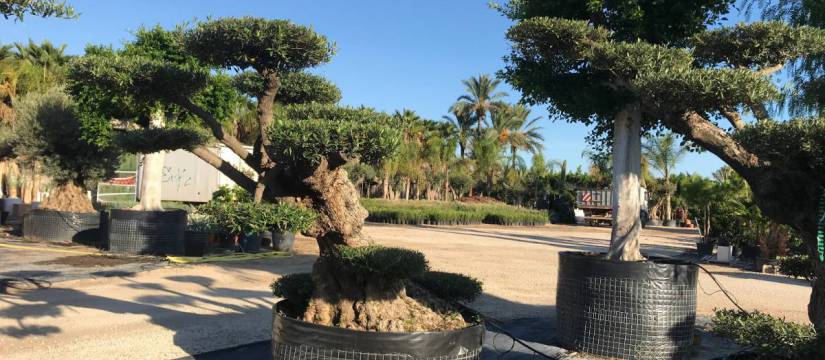 Do you want to create a different landscape in your garden? Are you designing an especially attractive rockery? Then use our wholesale knocked down olive trees and your landscaping projects will attract a lot of attention. The olive tree is one of the most emblematic trees in the Mediterranean basin. With an evergreen and leafy crown, the olive tree is a very long-lived and easily adapted tree that loves to live in very sunny areas. We offer you very resistant olive trees, fully adapted to survive in poor soils and unfavorable climates, such as the long dry seasons typical of the Mediterranean climate.
You will be pleasantly surprised by the exotic beauty of our overturned olive trees that, in many cases, are olive trees that have been knocked down by the wind that have become centuries-old trees . You will love their unconventional and whimsical shapes, with twisted trunks and fissured bark in shades of gray. They are specimens with a very peculiar appearance that, at VIVEROS SOLER, we have worked over time to enhance this unusual aspect caused by the wind, achieving these beautiful natural monuments.
If you want to give a different point to your garden, with our lying olive trees you will be able to decorate it in a special way.
If you want to buy knocked down olive trees wholesale, trust VIVEROS SOLER, experts in centenary olive trees
Since 1988 we have been working to meet the demand throughout Europe for centenary olive trees. We also have extensive experience in serving wholesale olive trees. In our facilities we have different sizes and formats of olive trees lying down. You will see its high quality and its highly competitive price.
In addition, we also have other types of centenary olive trees for ornamental use to give a special touch to gardens, roundabouts, urbanizations ... since the olive tree is characterized by its simple and inexpensive maintenance. You only need sun and space. Among the ornamental olive trees most demanded by our clients we highlight:
Plate, pompom or bonsai : pruned in the shape of balls
Regional : from Valencia, Alicante, Albacete, Murcia
Leg : from Andalusia pruned according to their way of harvesting the olives
Lechin : tall and elegant trunk
Are you interested in our wholesale knocked down olive trees?
If you wish to expand your information about our wholesale knocked down olive trees, we will be happy to advise you personally. Do not hesitate to ask us for professional advice to choose the trees that will best fit your gardening project. At VIVEROS SOLER we have been working with centenary olive trees for two generations and covering their demand both in Spain and in the rest of Europe. We have a guaranteed transport and placement service for large specimens at very competitive prices. In addition, our trees always travel with the phytosanitary passport required by the European Union.
If you are interested in our wholesale knocked down olive trees, contacting us will be very easy. Choose the way you prefer and, as soon as possible, we will contact you:
Fill in the contact form that appears on our website
Call 677 957 012
Write an email to info@viverossoler.com