Wholesale of Cyca Revoluta soars at this time of year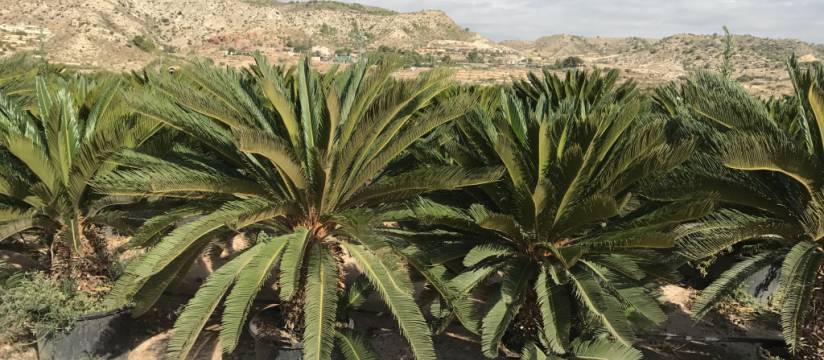 The great popularity of this exotic plant makes it one of the most demanded ornamental plants to give for Christmas. For this reason, nurseries and garden centers are interested in buying Cyca Revoluta wholesale at this time of year.
Cyca Revoluta is popularly known by various names: cica, Sago palm, false palm ... This beautiful plant, similar to a palm tree, does not withstand intense cold so it is highly appreciated as an ornamental plant for the interior of the dwellings . But, as the temperatures are very mild on the Spanish Mediterranean coast, the cica has adapted perfectly to living outside, embellishing gardens and roundabouts. Being very slow growing, it is also the perfect complement to have in a pot and beautify patios and terraces . In addition, you can forget about it because it needs very little care :
Direct sun
Fertile soils with good drainage
Moderate waterings in summer and widely spaced the rest of the year
Just prune the dry, yellow leaves
It only has one drawback: For both people and pets, the ingestion of the Sago Palm is highly poisonous.
If you are interested in buying Cyca Revoluta wholesale, we tell you some curiosities so that you know this plant better
Are you going to buy cyca revoluta wholesale? At VIVEROS SOLER we have a highly professional team with a long experience in ornamental plants . We like to inform our clients about the characteristics of the plants they acquire and advise them on their care. We advise landscapers, developers, commercials, wholesalers in general on the best options in plants for their projects.
The cica or False Palm Tree is considered a living fossil, since its appearance on earth dates back to 300 million years ago, long before the dinosaurs. This extremely hardy plant is native to southern Japan and is grown in temperate climates. They can live up to 200 years, in which case they can reach more than five meters in height.
Do you want to buy Cyca Revoluta wholesale?
If you are interested in buying cyca revoluta wholesale, at VIVEROS SOLER we offer you plants of the best quality at very attractive prices. We have a wide range of sizes and formats since the scar beautifies any corner from a very young age. The smallest ones are in great demand for the interior of homes, while the medium ones are used for terraces and balconies and the largest ones for gardens.
If you want information about buying cyca revoluta wholesale, contacting us will be very easy. We can advise you on our complete transportation service, guaranteed and at an excellent price. You just have to fill in the form that appears on our website or write us an email to info@viverossoler.com and, as soon as possible, we will answer you.