Wholesale multitrunk olive tree, an original option for public parks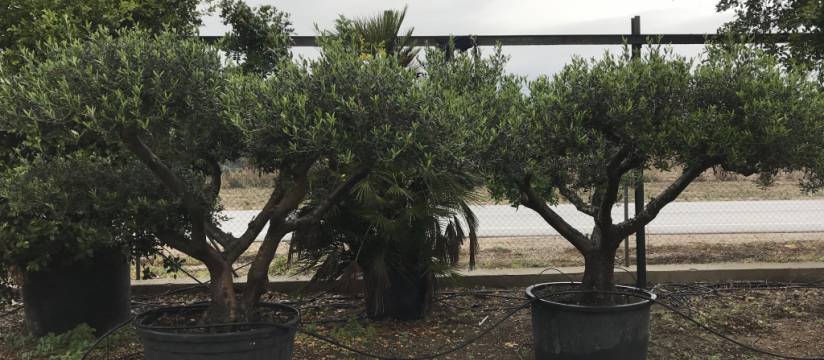 Are you looking for a different solution to beautify walkways and roundabouts? The trend to return to native plants to beautify our gardens is in fashion. If you want a strong ornamental plant that needs little care, the wholesale multi-trunk olive tree is an excellent option. Your landscaping projects will shine with the different capricious shapes offered by each olive tree and, furthermore, with the guarantee that you are using a plant that is resistant to all climates and whose maintenance is very simple and inexpensive .
This evergreen, glossy-leaved tree casts very pleasant shade, especially in summer, and needs pretty much only plenty of sun and space . Native to the Mediterranean basin, it is highly resistant to drought and therefore requires very little water .
The multi-trunk olive tree , also known as the multi- armed olive tree, is one that, as its name suggests, has several arms but with the peculiarity that the branches emerge from the lower part of the trunk. In this way its thick and greyish branches, on many occasions twisted and somewhat fissured, show off, a natural sculpture. In some areas it is also known as the Tuscan olive tree, as this type of olive tree is common in that Italian region.
At VIVEROS SOLER we transport our multi-trunk olive tree wholesale to different European countries
At VIVEROS SOLER we have the necessary infrastructure to transport our multi-trunk olive tree wholesale to any point in Spain, as well as to other European countries. We are pioneers in the supply of centennial olive trees, carob trees, palm trees, citrus fruits… to France, Italy, the United Kingdom, etc. Our plants always travel with their corresponding phytosanitary passport, required by the European Union.
We have a safe transport to send our multi-trunk olive trees to their destination and we supply our plants in containers or with metal mesh. For this we use a special truck and we help ourselves with a boom truck to place each tree in its final location.
In our facilities we have a wide variety of multi-trunk olive trees with different formats and of different dimensions . You will be surprised by the high quality of our plants and their highly competitive market price.
Are you interested in buying wholesale multi-trunk olive trees?
If you are interested in buying multi-trunk olive trees wholesale, contact VIVEROS SOLER and check out our great professionalism, as well as our personalized customer service. In addition, we speak fluent English and French to deal with our European clients and offer them the necessary advice.
For two generations, we have been the wholesalers specializing in the sale of large specimens, mainly palm trees and ancient olive trees, throughout Europe.
Do you have any questions about our wholesale multi-trunk olive tree? We'd love to solve them. We offer you two options so that you can choose the one that is most appropriate for you to contact us and, as soon as possible, we will respond to you: