With our wholesale bola olive trees the decoration of gardens or terraces is very easy and requires little work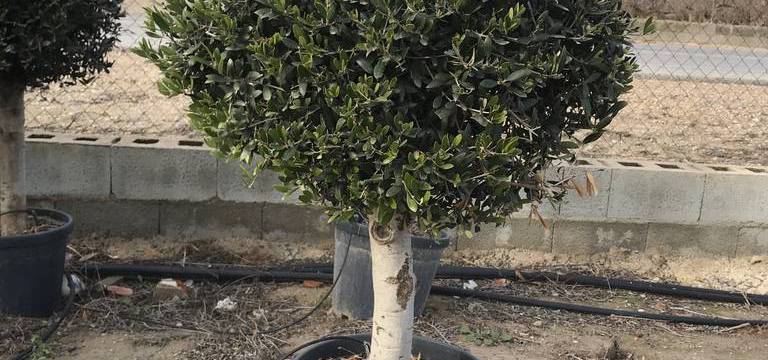 The excellent characteristics of the olive tree have meant that this tree is in great demand as an ornamental plant throughout Europe. If you want to buy ball olive trees wholesale, at VIVEROS SOLER we have a wide variety of sizes with different prices .
We know by ball olive tree , also called rounded olive tree , those olive trees that are pruned giving them the shape of a ball or ball. Its pruning is very simple, allowing different shapes to be given to the cup such as round, cylindrical, pyramidal, etc. It's also very easy to maintain this look: you just have to trim the new shoots that appear.
The olive tree or olive tree is a very resistant tree that easily adapts to different climates. It resists very well the times of drought, since it needs very little water and only needs a lot of sun and space to grow. The only thing it requires of the soil is good drainage, since it adapts perfectly, even in limestone soils. Its evergreen leaves make it an attractive tree at any time of the year .
Wholesale ball olive trees, the perfect solution for decorating open spaces and developing landscaping projects
Buying ball olive trees wholesale will allow you to beautify and develop green spaces with a Mediterranean style. The olive tree is a very long-lived tree that is characterized by the cool shades it offers, a very interesting aspect to take into account in garden design. Its tall trunks and grayish tones give it a very elegant bearing.
In addition to offering you ball olive trees in plastic containers for transplanting into the ground , we also have trees in decorative pots to beautify terraces, private gardens, urbanizations, shops, restaurants... and in all those spaces that you want to decorate and have sun and natural light. .
Given the hardness of this plant and the little care it needs, it is in great demand internationally due to the current trend to use native plants in our gardens.
If you are looking for wholesale ball olive trees, you will be surprised by the quality of the plants offered by VIVEROS SOLER
The quality of the plants that we offer you at VIVEROS SOLER will surprise you. Therefore, if you need wholesale ball olive trees, your best option is to contact us.
For two generations we have been dedicated to the sale throughout Europe of ornamental plants, mainly palm and olive trees. Our long experience in the sector allows us to offer you high quality plants. We also have an efficient transport service that transports the plants to their destination in optimal conditions, always accompanied by the phytosanitary passport required by the European Union. All this at a very competitive price.
Contacting us is very simple. You can consult us in detail about the size, price and quantity of wholesale ball olive trees you want. Choose the way you prefer and, as soon as possible, you will receive our news.