VIVEROS SOLER, the best choice to buy regional wholesale olive trees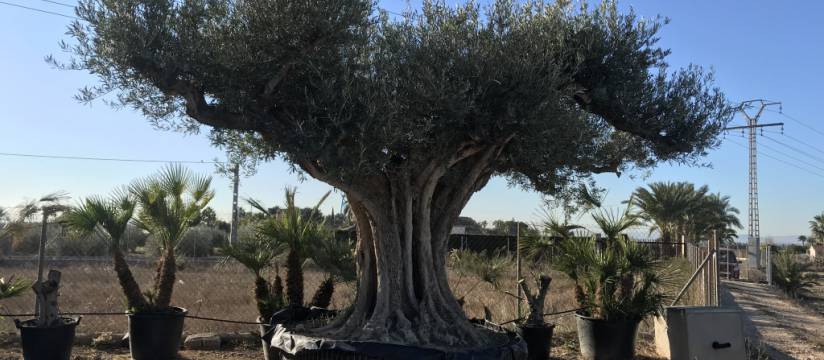 You will be surprised by the great assortment of centenary olive trees that we offer you at VIVEROS SOLER . If you are a wholesaler interested in buying olives for decoration, our regional olive wholesale offer will be very attractive to you. Our centenary olive trees have been recovered from cultivated fields where they are abandoned when their production decreases. We offer them a second chance by uprooting them from the field to be used as ornamental trees in walkways, roundabouts, gardens, rest areas, etc.
Let's not forget that Spain is the country with the most olive trees in the world. Although the main producing area is Andalusia, we also find extensive olive groves in the Valencian Community, the Region of Murcia, Extremadura, Castile-La Mancha, Catalonia, Aragon... Different varieties are grown in each area which, together with the different types of pruning that It is practiced in each place, it makes it easier for us to have a varied stock of olive trees.
We call regional olive trees the trees from Alicante, Valencia, Murcia and Albacete . Its main characteristic is the height of both its trunk and its branches, as a consequence of the type of pruning to which they are subjected. Its proud and elegant bearing is very different from that of the olive trees from Zaragoza or Andalusia, where a different pruning method is carried out.
We serve wholesale regional olive trees to any point in Spain or Europe
At VIVEROS SOLER we have a large assortment of olive trees from all areas of Spain. You will be surprised by the spectacular beauty and quality of our specimens. If you are interested in buying wholesale regional olive trees, we also offer transportation to your destination . Do not hesitate to ask us about our interesting rates. As pioneers in the supply of centenary olive trees , we have extensive experience in the sector, which is why we distribute our trees in containers or metal meshes, depending on their size and with full guarantee .
We transport our plants to any point in Spain or Europe, since we have an extensive commercial network that includes:
Costa Brava
Costa del Sol
White shore
Interior of Spain: Madrid and other big cities
Balearic Islands
South of France
United Kingdom
Etc.
If you want more information about our regional olive trees, click on the following link:
https://viverossoler.com/en/products/130/buy-regional-olive-sell-regional-olive-buy-olive-trees-sell-olive-trees/
How to contact VIVEROS SOLER to buy wholesale regional olive trees?
See how easy it is to contact us. Do not worry if you are in another country because our professional team will attend you perfectly in English or French . If you are interested in buying wholesale regional olive trees or need to solve any doubts in this regard, you only have to fill out the contact form that you will find on our website or write us an email at info@viverossoler.com and, as soon as possible, our staff specialist will contact you to solve all your questions related to the purchase of wholesale regional olive trees or any other of our plants.