Giving a bonsai olive tree as a gift is in fashion. Now is the time to buy bonsai olive trees in bulk to satisfy the demand of your customers.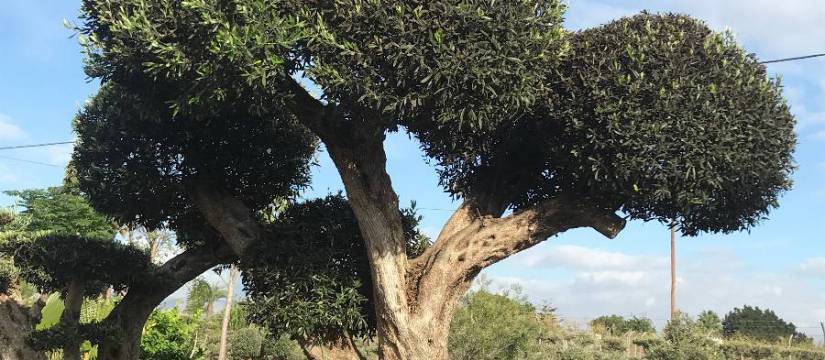 Giving plants is fashionable, as it helps develop ecological awareness. Therefore, it is time to place an order for your wholesale olive bonsai business. At VIVEROS SOLER we send bonsai olive trees of different sizes and formats to your establishment.
We have large centennial specimens to plant in private urbanizations, motorway roundabouts, walkways, gardens... We also offer you young specimens in decorative pots ideal for placing on a patio, a terrace, a solarium... You will be surprised by the large number of sizes that we have , suitable for placing them anywhere.
The olive tree has the advantage that it needs very little care: little water and a lot of sun. Its perennial leaf allows it to beautify the place where it is located throughout the year. Placed in a decorative pot, you will have the perfect complement to decorate any space, whether in a home or in a business.
We are specialists in the wholesale sale of bonsai olive trees
If you are looking for a nursery that offers you wholesale bonsai olive trees, then contact us. At VIVEROS SOLER we have a wide variety of olive trees with a plate or pompom , which is how the bonsai type is also known.
We have at your disposal very young olive trees that, placed in decorative pots, are a perfect option to embellish the spacious corner of a business or the private garden of a bungalow . An original gift that will always be gladly accepted, since the olive tree is a resistant and very long-lived plant that adapts to all sunny spaces. In our facilities we also have a large selection of large centenary olive trees whose branches have been pruned into balls or plates .
If you buy bonsai olive trees wholesale, at VIVEROS SOLER we have the most suitable transport service for your plants.
Enjoy offering original presents and transmitting love for nature. Surely your audience will appreciate this nice option. Buy a bonsai olive tree wholesale and your customers will appreciate this attractive alternative for their gifts.
Also, if you trust VIVEROS SOLER, you won't have to worry about the state in which you will receive your plants. We have an unbeatable transport service to take our plants to your facilities and receive them in optimal conditions . To do this, we use a fully secure palletized goods system that:
Holds the pots preventing them from tipping over or their branches from breaking
It facilitates its handling, as well as the loading and unloading of the plants
The space available in the truck is optimized, so transport costs are reduced
The loading and unloading time is also shorter, which helps to make the freight more profitable.
If you are interested in buying bonsai olive trees wholesale, do not hesitate to contact us by filling out the contact form on our website or writing an email to info@viverossoler.com