Still don't know the trendy palm tree? At VIVEROS SOLER we offer you the blue palm tree wholesale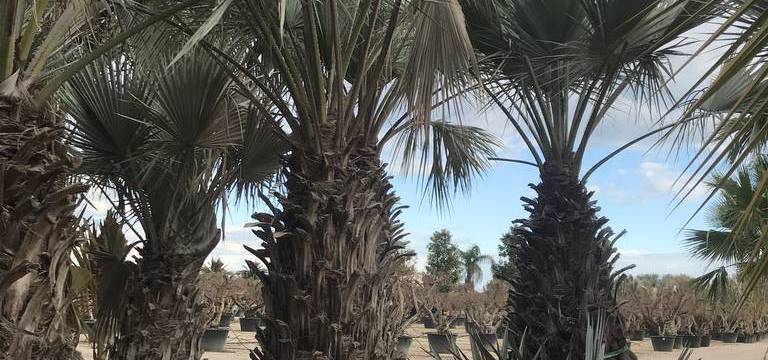 The blue palm, also known as Brahea armata, is a species of palm native to Mexico and Baja California Sur. This plant stands out for its beautiful gray-blue color that varies according to the incidence of daylight .
The leaves of the blue palm tree are large and thick. Its inflorescences are very spectacular and can reach a large size. As for its roots, they are different from those of other trees, since they are more superficial and do not grow too downward. Due to its spectacularity, it is very appropriate to place it in gardens, private urbanizations, around a swimming pool, etc.
Among the main characteristics of this ornamental palm, we highlight:
It is very resistant to cold and wind, so it can grow in areas where other species do not.
It needs little watering and easily adapts to warm environments.
It is slow growing.
It needs a lot of sunlight to grow healthily.
Ideal for coastal areas.
The use of an organic fertilizer every six months helps the blue palm tree grow faster, stronger and healthier.
It needs a soil with good drainage, since its roots do not tolerate waterlogging and can rot.
With all this care, your blue palm trees will surely remain healthy and beautiful.
At VIVEROS SOLER we are specialized in the wholesale sale of blue palm trees
The blue palm is a beautiful, hardy plant that requires little care to stay healthy. At VIVEROS SOLER we sell the blue palm tree wholesale as an ornamental plant, since its beauty can be enjoyed for many years.
In the following link you have more information and an interesting photo gallery of the blue palm tree:
https://viverossoler.com/en/products/
In addition to the blue palm tree or the one also called Brahea armata or Erythea armata , in our facilities we have a wide variety of palm trees of different sizes and formats, among which we highlight:
bismarck palm tree
Heart of palm or margallón
Chinese fan palm, windmill palm or giant fan palm
Date palm
california palm tree
Chilean coconut tree
dwarf or pygmy palm
canary palm tree
Etc.
At VIVEROS SOLER we are experts in transporting blue palm trees wholesale
We put at your service our long professional career in the field of nursery and ornamental plants. We offer you high quality plants at very competitive prices . We also offer you the transport service for the wholesale blue palm tree, as well as the rest of our plants, which always travel with the phytosanitary passport required by the EU.
We have an expert team and a special truck both for palletized goods and for the transport of large specimens, regardless of the European country where our palm trees have to be taken.
If you have questions about our interesting services related to the wholesale sale of blue palm trees, contact us: