Chinese fan palm wholesale, the queen of ornamental plants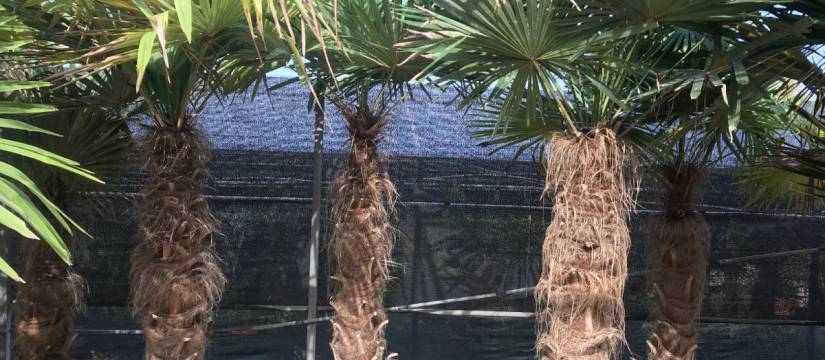 The trachycarpus fortunei palm is a species native to Asia, which adapts very well to temperate and cold climates. It is one of the most resistant and cultivated palms in the world, due to its beauty and hardiness. At Viveros Soler we recommend you to buy the Chinese fan palm wholesale, as it is in great demand due to its excellent characteristics.
Also known as the windmill palm, it has a single trunk, covered with fibres, which can reach a height of 15 metres and a diameter of 20 centimetres. Its leaves are palmate, round and green, with curved or erect segments. Its flowers are small, yellow and fragrant. Its fruits are purple, spherical drupes. To grow this palm we recommend:
A place with plenty of direct sunlight, as it does not tolerate shade.
The soil should be well drained and rich in organic matter.
It can be planted in the garden or in a pot, but in this case it should be transplanted every few years to a larger container.
Watering should be moderate, keeping the soil slightly moist but not waterlogged.
Fertilising is recommended twice a year, in March and July, with a specific fertiliser for palms.
Pruning is not necessary, except to remove dry or damaged leaves.
Protect it from extreme cold, covering the trunk with hessian or plastic if there is frost.
It is very resistant to pests and diseases, but it is advisable to prevent the attack of the red palm weevil.
How to get the best quality Chinese fan palm wholesale at the best prices
Why buy the Chinese fan palm wholesale? If you want to get the best quality and a very competitive price on windmill palm trees, we are your best choice.
The Chinese fan palm is one of the most popular and versatile ornamental plants available. Its elegant shape, its large fan-shaped leaves and its resistance to cold and drought make it an ideal choice for decorating gardens, terraces, patios and even interiors. This palm is a very ornamental plant that adds an exotic and tropical touch to the place where it is located.
Buying the Chinese fan palm wholesale with Viveros Soler is very easy and convenient. In our online catalogue you will find all the information about this palm tree, which is also known as giant fan palm, and other available species.
In the following link you can find more information about the Chinese fan palm:
https://viverossoler.com/en/products/127/trachycarpus-fortunei-chinese-fan-palm-windmill-palm-raised-fan-palm-or-giant-fan-palm/

Viveros Soler: your reliable supplier for buying the Chinese fan palm wholesale
If you are thinking of buying this wonderful plant, you will be interested to know that you can buy it wholesale from Viveros Soler: We can offer you the Chinese fan palm wholesale because we are a leading company in the production and distribution of ornamental plants to wholesalers in Spain and Europe. We are at the forefront of the sector and we offer you the latest trends in ornamental plants.
If you want to know more about buying Chinese fan palm wholesale or any other ornamental plant, do not hesitate to contact Viveros Soler. We will be delighted to help and advise you. If you are looking for quality, variety, price and service, you will not regret it.
Email: info@viverossoler.com
Contact form on our website