Wholesale Bismark Palm: a safe investment for your gardening business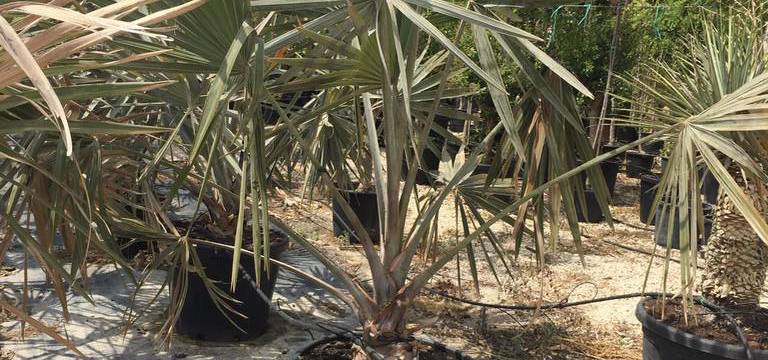 Would you like to give an exotic and elegant touch to your landscaping project? Do you want to surprise your customers with a plant that stands out for its beauty and resistance? Then ask us about the Bismark palm tree. At Viveros Soler we offer you the Bismark palm tree wholesale, a species native to Madagascar that has become one of the most sought after in the ornamental plant market.
What is the Bismark palm tree?
This palm, also known as Bismarckia nobilis, is characterized by its large size. It can reach 25 meters in height in its natural habitat, although cultivated it does not exceed 12 meters. Its trunk is thick and cylindrical. Its crown is made up of bluish-green or silver fan-shaped leaves that give the plant a majestic and striking appearance.
The Bismark palm does well in hot, dry climates and is hardy to light frosts. It does not need a lot of water or fertilizer, and only dry or damaged leaves need to be pruned. It is an ideal plant for decorating large outdoor spaces, such as gardens, parks, hotels or shopping centers .
Click on the following link and you will be able to expand your information about this palm tree, as well as browse an interesting photo gallery of our specimens:
https://viverossoler.com/productos/126/buy-bismarkia-nobilis-sale-of-bismarkia-nobilis-buy-palm-tree-of-bismarck-sale-of-palm-tree-of-bismarck/
Where can you buy the Bismark palm tree wholesale?
If you want to buy the Bismark palm tree wholesale, we recommend that you trust Viveros Soler. We are a company with a long experience in the sector of ornamental plants. At Viveros Soler you will find the best quality and the best price in wholesale Bismark palm trees, as well as other species of palm trees, trees, ornamental shrubs and plants. In addition, we offer you:
personalized and professional service
Advice on the care and maintenance of your plants
transport service that guarantees the fast and safe delivery of your order
Deliveries throughout Spain and Europe
budget without commitment
The Bismark palm tree wholesale, a safe bet that we recommend at Viveros Soler
The wholesale Bismark palm tree is an ornamental plant that cannot be missing from your catalogue. It is an exotic, elegant and resistant species that will give a special touch to any outdoor space . And if you want to buy it at the best price and with all the guarantees, all you have to do is call Viveros Soler, your trusted supplier of ornamental plants.
Don't wait any longer and place your order today. Fill out the contact form on our website or send an email to info@viverossoler.com and we will be delighted to assist you. Remember that at Viveros Soler we have the wholesale Bismark palm tree that you are looking for. And not only that, we also have the best selection of ornamental plants to make your garden the most beautiful and greenest! Viveros Soler, your vegetable paradise!