Designing an exotic garden? With the California Palm wholesale you will reach your goal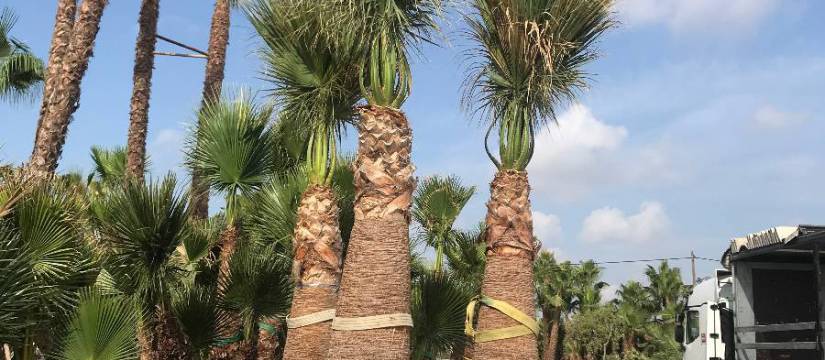 Using the wholesale California palm tree you will be able to create an exotic and very striking garden. Have you noticed the palm trees that adorn the parks and avenues of coastal cities? Surely yes, because they are a very characteristic element of the urban landscape. But do you know what type of palm tree is the most common and why? In many cases it is the California palm tree (Washingtonia filifera), a species native to the United States and Mexico that has adapted perfectly to the Mediterranean climate.
What is so special about the California palm tree?
The California palm tree is a very hardy and easy to grow plant . It can reach up to 25 meters in height and has a thick, fibrous trunk, topped by a fan-shaped crown of leaves. Its appearance is very elegant and exotic, which makes it ideal for decorating any outdoor space . In addition, the California palm tree has several advantages over other palm species:
It supports cold and frost well, as long as they are not very intense or prolonged.
It tolerates drought and wind, although it needs regular watering in summer.
It is not very demanding in terms of soil, as long as it has good drainage.
It has no major pests or diseases, except for the red weevil, which can be prevented with phytosanitary treatments.
If you are interested in buying the California palm tree wholesale, follow the following tips offered by Viveros Soler
If you are thinking of buying the California palm tree wholesale, you should follow these basic tips so that your plants stay healthy and beautiful:
They need a sunny and spacious place , where they can grow without obstacles.
Frequent watering in summer , but without flooding the soil. Reduce watering in winter.
Prune them once a year to remove dry leaves and shape the crown.
Monitor the appearance of possible pests or diseases and apply the appropriate products if necessary.
In the following link you have an extensive photographic report of our California palm trees, as well as a brief explanation of their main characteristics:
https://viverossoler.com/en/products/125/sale-of-washigtonia-filifera/
Where can you buy the California palm tree wholesale?
If you want to buy the California palm tree in bulk, do not hesitate: contact Viveros Soler, the specialists in palm trees. We have extensive experience in the sector and we offer you the best conditions:
Palm trees of certified quality, cultivated with care and professionalism.
Competitive prices and adjusted to your needs.
Transport and placement service anywhere in Europe.
Personalized and close advice to help you choose the best option for your project.
Viveros Soler offers you guarantee and quality in the purchase of the California Palm tree wholesale. Do not wait any longer and ask for your estimate without obligation. Write to us at info@viverossoler.com or fill out the contact form on our website. At Viveros Soler we offer you the best conditions and the best service.