Are you looking for a Mediterranean palm tree that will succeed in gardens? Buying Chamaerops humilis wholesale you have guaranteed success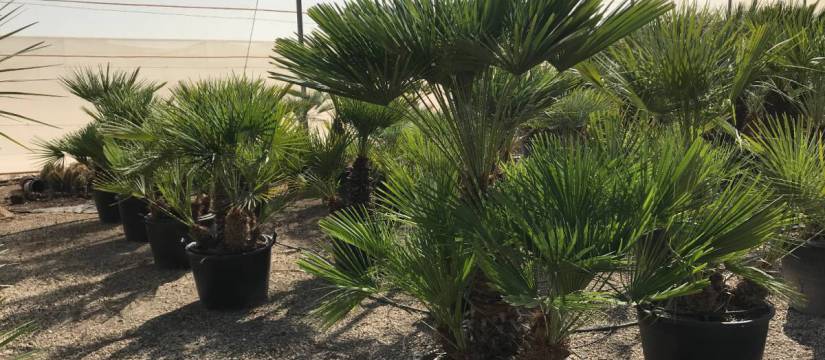 If you are looking for a hardy, beautiful and versatile palm that is ideal for gardens, Chamaerops humilis is an excellent choice. Buying the Chamaerops humilis wholesale you will have guaranteed success in your gardening projects.
Also known as heart of palm or margallón , it is the only native palm tree of the Iberian Peninsula. It adapts to all types of soils and climates and offers a wide variety of shapes and colors.
What is Chamaerops humilis?
The Chamaerops humilis is a shrubby palm that can reach between 3 and 4 meters in height and up to 8 meters in exceptional cases. Their formations are called palms. Its trunk is usually branched from the base. Its leaves are palmate, that is, they are fan-shaped, and the color of the leaves varies depending on the variety, from dark green to bluish or silver.
This palm, native to the Mediterranean region, grows in very sunny dry or arid areas . It also resists environments near the sea with saline winds.
What care does the Chamaerops humilis need?
It is a very easy palm to care for, as it is highly resistant to drought, cold and pests . However, for it to develop well and shine in all its splendor, some recommendations should be followed:
Location: the ideal is to plant it in a place with a lot of light and direct sun , although it also tolerates partial shade. Avoid areas with frequent or very intense frost, as it can damage its leaves.
Soil: it adapts to any type of soil, as long as it has good drainage . It does not like puddles or excess humidity. The substrate can be improved with organic matter or specific fertilizer for palm trees.
Irrigation: it must be watered sparingly , especially in summer, when the soil dries faster. In winter you can reduce watering or even suspend it if it rains regularly. It is better to water it in the morning or in the afternoon, avoiding the hottest hours.
Pruning: it does not need mandatory pruning , but dry or damaged leaves can be removed to improve its appearance and avoid diseases. You can also cut the fruits if you do not want to collect them or if you want to encourage the growth of new leaves.
Transplant: you can transplant every two or three years if you want to change the pot or location. It must be done in spring or autumn, when the plant is less active. You have to be careful with the roots and thorns that the leaves have.
What types of wholesale Chamaerops humilis will you find at Viveros Soler?
If you are thinking of buying Chamaerops humilis wholesale, you should know that there are different varieties depending on the place where it grows and the environmental conditions. Some of the most popular are:
- "humilis" : it is the most common and widespread variety. It has dark green leaves and a branched trunk from the base.
- "cerifera" : it is a variety that is characterized by having bluish or silver leaves, due to a layer of wax that covers them. It is more tolerant of drought and cold.
- "Vulcano" : it is a variety native to the Vulcano island in Italy, distinguished by having almost entire leaves, with few segments, and a silvery back. It has fewer thorns and a smaller, more compact habit.
In the following link you have more information about the palm tree Chamaerops humilis:
https://viverossoler.com/en/products/123/chamaerops-humilis-for-sale-chamaerops-for-sale/
Why buy Chamaerops humilis wholesale at Viveros Soler?
If you want to buy Chamaerops humilis wholesale, do not hesitate and contact Viveros Soler , the nursery specialized in the sale of trees and ornamental plants. At Viveros Soler you will find a wide range of varieties of Chamaerops humilis in different formats and sizes, from young specimens to adults. All of them with the highest quality and guarantee, since we have more than 40 years of experience in this sector .
In addition, at Viveros Soler we offer you a personalized and professional service , advising you on the best option for your project. If you wish, we will facilitate the transport and installation of the plants, and we will give you all the instructions for their care and maintenance.
Do not wait any longer and place your order for wholesale Chamaerops humilis at Viveros Soler. Send an email to info@viverossoler.com or fill out the contact form that appears on their website.