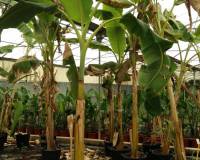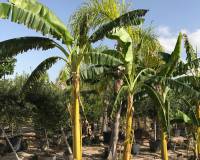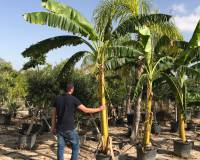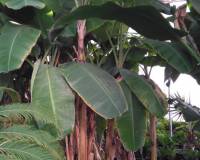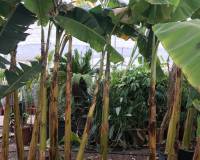 Musa x paradisiaca
Category: Exotic plants
Origin: Indomalay Region
Description: The scientific name Musa x paradisiaca (or Musa paradisiaca) and the common names banana, banana, banana, cambur, topocho, mature and guineo refer to a large number of herbaceous plants of the genus Musa, hybrids obtained horticulturally from the wild species Musa acuminata and Musa balbisiana and genetically pure cultivars of these species.

The banana is not a tree, but a megaphobia, a large perennial herb. Like all other species of Musa, it lacks a real trunk. Instead, it has foliar pods that develop into structures called pseudostems, similar to vertical stems of up to 30 cm of basal diameter that are not woody, and reach 7 meters of height.
We have a wide variety of formats of Musa x paradisiaca.

More information